Office Hours
Monday – Friday 8:30 a.m. – 4:00 p.m.
Ph.: 904-471-5364
Fax: 904-471-7448
Gift Shop: 904-471-0806
History of the Parish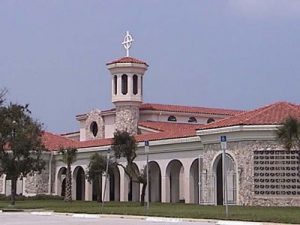 St. Anastasia Catholic Church's present church was dedicated on Sept. 26, 1999, by John J. Snyder, Bishop of St. Augustine. The church area is 26,000 sq. ft. with a seating capacity of 1,569. The design of our new church reflects the Spanish heritage of St. Augustine with its coquina exterior, Spanish tile roofs and the decorative stone facings. The liturgical design incorporates changes promulgated after Vatican II. A 57 ft. high bell tower graces the church and may be seen from miles away. The bell tower and (carillon) is one of approximately 200 in the USA. The carillon evolved in the 16th Century in Europe; the first was installed in the USA at the University of Notre Dame in 1856. A Time Capsule is located in the Altar Platform to be opened in the Year 2049 and contains local community and church memorabilia since 1985. The round rose window above the Tabernacle depicts the Resurrection. "Anastasis" in Greek means resurrection. Learn more about our Patron Saint in the link "Anastasia the Saint." The Angel window between the altar and the tabernacle chapel is of beveled glass and reflects light rays of the morning sun throughout the church.
Other statistics include:
Church property consists of 57 acres
Each Columbarium has 320 memorial places
There are 835 parking spaces (28 handicapped)
Inside the church, there are 36 chandeliers, 22 stained glass windows in the Nave, San Antonio Room, Gift Shop and Our Lady's Chapel; and 44 clerestory stained glass windows
Words and statistics cannot do justice to the magnificence and beauty of St. Anastasia Catholic Church. A visit to St. Augustine is not complete without a visit to our island place of worship. Visit us. You are always welcome!
---
Campus Map