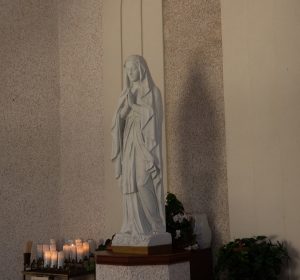 Our Lady's Chapel is available for visitation from 7 a.m. to 7 p.m. and is located between the church and the Parish Community Center. The Chapel offers a place for quiet and peaceful prayer and contemplation. The chapel, dedicated to Mary, Mother of Jesus, features windows picturing the Annunciation, the Nativity, the Visitation, the Fourth Station of the Cross when Jesus meets His afflicted Mother, the Pieta, and the Assumption. The focus of the chapel is the 6-foot white Italian Carrara marble statue of the Blessed Mother.

Candles, in glass candle holders that have an impression of the statue on them, may be purchased at the Little Flower Gift Shop for $7.00 each. The candles may be lit and placed in the candle stand in the chapel or purchased for home use or gift-giving.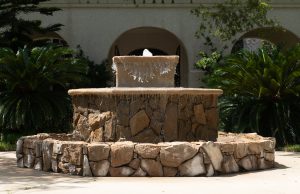 The shrine and the statue were donated by Mr. Neil Meskers.