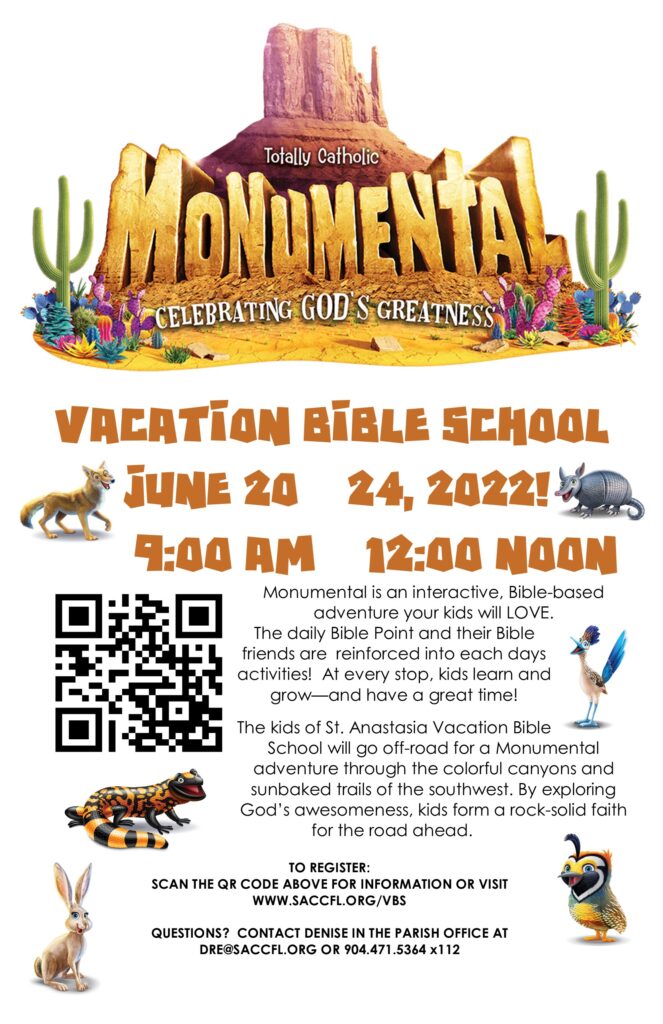 St. Anastasia Vacation Bible School is a fun way for your child to get involved this summer.
1 – Fun, faith-filled enriching activities along with some Monumental SNACKS!
This year's Vacation Bible School is Monumental. No, literally, it's Monumental! Go off-road for an adventure through the colorful canyons and sunbaked trails of the southwest. By exploring God's awesomeness, kids form a rock-solid faith for the road ahead. And let's not forget that there's a GREAT snack station dedicated to the Monumental theme!
2 – VBS teaches kids about Jesus.
At Monumental, one memorable Bible Point is emphasized throughout each station, each day — making it easy to apply long after VBS is over. Each day, kids trek through field-tested rotations that reinforce relevant Bible Points and immerse kids in new adventures.
3 – VBS is an opportunity for your child get out of the house and learn about Jesus! Your child is active and you get some free time too!
Register your child for VBS and let our parish staff and volunteers entertain them for a few hours while you get some of those important errands done!
4 – VBS is a chance for you and your child to make new friends and build up the parish community!
Vacation Bible School is an easy way to get kids involved in church while giving you the opportunity to meet the people within the church, too. Your kids will meet new friends and will learn life lessons on how to be good friends to others.
5 – Your children will make memories at Vacation Bible School!
Making new friends, sharing fun time creating, singing and learning about how Jesus is always with them!
Those are just a few great reasons for you to register your child for the St. Anastasia Vacation Bible School this summer!