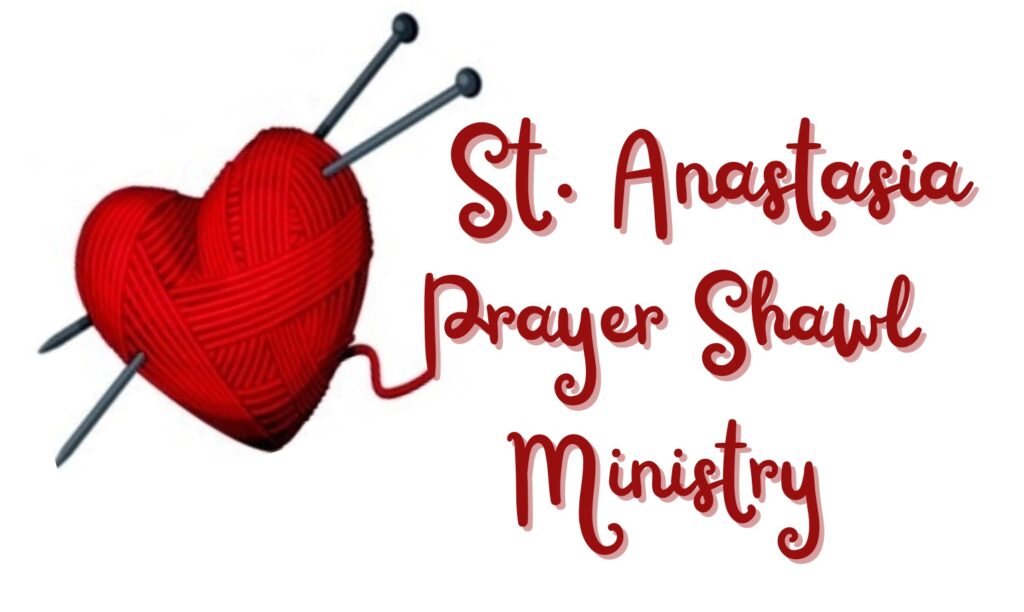 Mission Statement —To knit or crochet God's love, comfort, care and warmth into prayer shawls for those who may benefit from these blessings. When our ministry started in October 2005, we intended to exclusively make shawls created for this purpose. Our talented members have since added other items such as lap robes, snuggies, scarves and chemo hats to our selection of crafts. Recipients of these blessed items include those experience illness or difficult challenges along with those who have joyous occasions.
Opening Our Hearts —One begins each woven item with prayers and blessings for the recipient. The work of the knitter's/crocheter's hand is dedicated to the individual who will be receiving the gift. Upon completion, a candlelight group blessing is held. A card indicating that the item was created by St. Anastasia Knitting Ministry is enclosed before being sent on its way.
To date, we have distributed and recorded well over 900 of the above items to individuals and have donated many items to nursing homes, assisted living facilities, veteran's retirement homes, St. Gerard Campus, Oncology centers, Community Hospice and Haven Hospice. Our ministry has extended beyond our parish doors serving the community under the patronage of St. Anastasia; the Patron Saint of Weavers.
Meetings —The Ministry gatherings are held in the St. Margaret of Antioch Room in the St. Enda of Aran Formation Center on the 4th Tuesday of the month at 1:00 p.m. There is time for sharing of experiences, fellowship, and conversation.  The candlelight group blessing is usually at 2:00 p.m.  Blessed items are always available in the St. Anastasia Parish Office during regular business hours.
"In your book all are written down…" Psalm 139:16 Keeping a journal is a treasure for the future:  therefore we keep a monthly record of gifted items in a journal to honor the recipients.
We are so very blessed to be a part of this wonderful ministry. Please Join Us!! It doesn't matter, novice or expert there's a place for you! This ministry is in need of a co-coordinator. For more information about this beautiful ministry, contact Margy at mjboro6@comcast.net
God bless you and our Knitting Ministry!