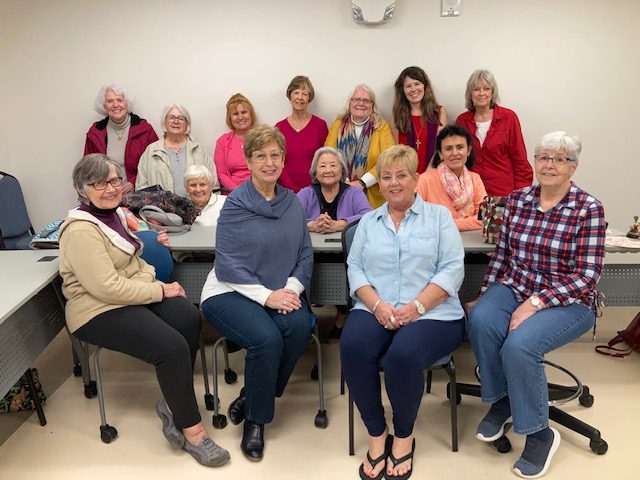 The St. Therese Rosary Guild distributes rosaries to missions overseas as well as throughout the United States with our main objective of bringing the love of the Blessed Mother to all. Providing cord rosaries for the military or other uniformed professionals is another of our goals. We invite you to join this exciting ministry!
We meet  the second and fourth Monday of the month from the September to  May in the St. Cecilia Room in the St. Enda Of Aran Formation Center from 1:30-3:00 pm. You can get a kit ($5) and do this exclusively at home and drop off the completed rosary for us to include in our many shipments. There is no experience necessary to be a rosary maker! We'd love for you to come to the bi-monthly meetings for lessons, and even more fun, fellowship and camaraderie. We never have enough rosaries as the requests are constantly increasing around the world. Whichever way you choose to participate you should feel great being a part of this  worthwhile calling. For more information or lessons on how to make the rosaries, refer to the bulletin or email  Regina at rrdmajor01@yahoo.com
We Made: Over 205,000 rosaries for missionaries in 109 countries including the United States, and for anyone who asks for rosaries including military personnel, hospitals, migrant workers, nursing homes, first communicants, RICA, churches and more!
We Supply: Free mission bead rosaries to any group who requests them. We place them through out the church grounds and are free to parishioners. We also provide information sheets on how to say the rosary. We make pro-life and world mission rosaries as needed.
We Collect: Broken rosaries for parts, to be reused to make new rosaries. Please attach a note and ask to have them put in our mailbox (Rosary Makers) located in the Administration Building.
We Repair: Rosaries free of charge. We can usually find a match. If not, you would only pay for the part(s) which is needed. If you need a rosary repaired, please ask to leave it in our Rosary Maker mailbox in the Administration Building with a note, or contact us using the information below.
We Make: Special order rosaries, cord rosaries of many colors (sold in gift shop), mission rosaries
We Sell: Hand made wire rosaries and silent cord rosaries at our sales.
For more information on how to be a part of this beautiful ministry honoring our Blessed Mother, please contact Regina Major at rrdmajor01@yahoo.com, refer to the weekly bulletin or contact the parish office at 904-471-5364