"Let no one have contempt for your youth, but set an example for those who believe, in speech, conduct, love, faith, and purity." -1 Timothy 4:12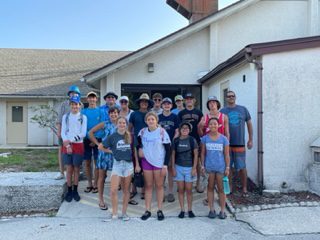 SAY Amen is a youth group for high school students. Our youth group meets in the Saint Anthony Youth Center at St. Anastasia. We praise God, play board games, pool or ping pong, shoot hoops, eat, and hang out with each other.
Most importantly, we learn about how to apply the teachings of Jesus Christ to our daily lives through the exploration of the scriptures including; small group discussions, reflection, prayer, and testimonies.
Our vision at St. Anastasia is to integrate youth into the life of the parish, encouraging participation and interaction in the Mass and other parish events. To develop the belief that each member of the parish has a responsibility to minister to the youth through their interactions with them and to create a Catholic-Christian atmosphere in which the youth can enjoy fellowship, faith growth, and a love of Jesus Christ. Contact Denise for information at 904-471-5364 X112 or dre@saccfl.org
We encourage you to bring friends! We would love to meet you! Check out the CALENDAR!
"Like" and follow the Youth Group Facebook page at: @SayAmen412! and @SAYAmen412 on Instagram! Also, don't forget to download the SACC App to stay connected there too!