St. Anastasia welcomes Deacon Jared De Leo to the parish! Deacon De Leo is one of six men who will be ordained in the Diocese of St. Augustine.
Here is a little about Father Jared:
JARED DE LEO Jared De Leo is a Catholic convert. His mother was Lutheran; his father Catholic, but the family wasn't active in either church. When he was in seventh grade, his paternal grandmother began taking him to Mass, and the following year Jared, his mother and sister, came into the church. They attended Queen of Peace Parish in Gainesville, where Deacon De Leo was active in the youth group and peer ministry.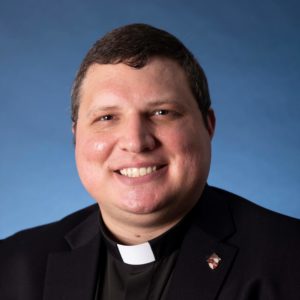 While he was attending Santa Fe Community College, his youth minister asked him to become a catechist, and he began to help prepare students for confirmation. Later on, as a history major at the University of Florida, Deacon De Leo got involved in campus ministry. During his college days, Deacon De Leo said he developed a strong relationship with the Eucharist. "It really forced me to confront my faith and get to know it," he said. While he was praying after Mass on March 20, 2010, he said he heard a voice inside him say, "Why don't you become a priest?" "I got freaked out a little bit," he said. "My prayer time got shorter because I didn't want to hear that again. But if the Lord wants you, he's going to get you." At a youth conference, the priest was carrying the Eucharist in a procession and stopped in front of him. "I was flooded with peace," Deacon De Leo said. He began actively discerning his vocation.
He got more involved with campus ministry and FOCUS. He talked with the vocations director, Father Remek Blaszkowski, who invited him to make a "Come and See" visit at St. John Vianney College Seminary in Miami. "That is when I knew I was called," Deacon De Leo said. Deacon De Leo decided not to complete his history degree and instead enroll at St. John Vianney and is now at St. Vincent de Paul Seminary in Boynton Beach. As a priest, Deacon De Leo said he hopes to work in youth ministry. "I want to bring peace and merciful love to the sacrament of confession. I also want to preach the Gospel and make it relatable to people's lives and bring out the joy in the Gospel.
Deacon De Leo said he knows that COVID-19 is changing the way Catholics practice the faith. "This is a great opportunity to come back to Him with our whole hearts," he said. "It's going to be hard for some people to get back into the swing of things, but I hope this will be an opportunity to re-evaluate their relationship to the Lord."